Play Store Review Rejection Cases
We'd like to inform you about the cases of review rejections that often occur in Play Store during app review period.
Please understand that the reasons for the rejection of the Play Store review are so diverse that we cannot cover all screening cases.
After creating the app with the Swin2App, those who applied for a Play Store upload agency will be informed of the measures that meet the reasons for rejection of the review.
You don't have to worry because we will continue to review until the app is released on the store.
Please check the reasons(cases) that often occur in the Play Store:
---
1. App sign-in account information
-Refusal: If you do not submit your login account information 
If your app has a login function, you must submit a test login account (ID, password).
The app created with Swing2App also provides membership registration and login functions.
If you have a login function in the WebView or push app that connects the website, you must provide the demo account for the same.
The play store team uses this account to log in directly to your app and to check and review all the menus of the app.
So you need to submit an account that can actually log in. Please submit with a user account that does not have administrator privileges.
You can sign up using a test account and provide that test account for store upload team testing process.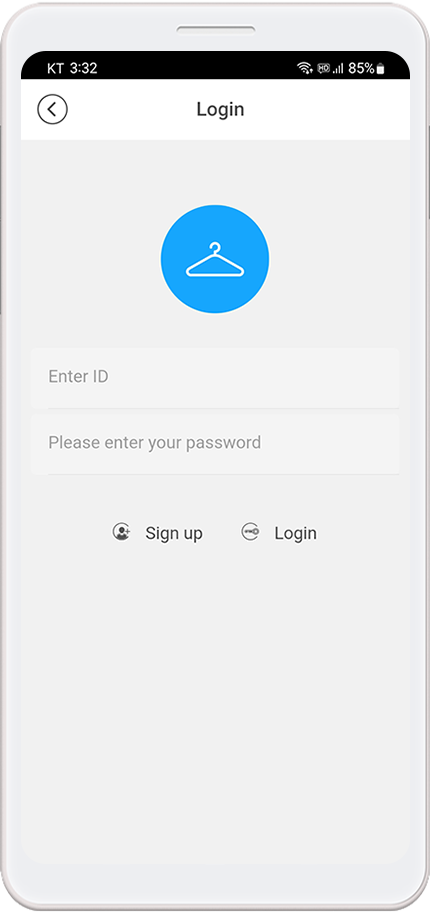 2. Privacy Policy, Terms of Use
-Refusal case: Personal information processing policy not registered, contents not stated.
When submitting the Play Store app, you will need to enter the privacy policy URL.
Web app that connects website – WebView, push app can enter the privacy policy URL provided by the user's website.
For those who have created a swing2app general prototype, the terms and conditions are set by default, and a URL is provided.  Therefore, general app production users can submit the privacy policy URL provided by Swing2App.
However, since the content is provided as a sample content, the company name, etc. must be corrected before use.
Check how to modify and use the Terms of Use & policy feature:
https://support.swing2app.com/documentation/appmanage/service/app-policy/
If you do not submit the URL when registering the Play Store app, the review will be rejected.
In addition, if you submit a URL but there is nothing in the terms and conditions, or if incorrect information is entered, the review will be rejected.
*The same applies to the Apple App Store.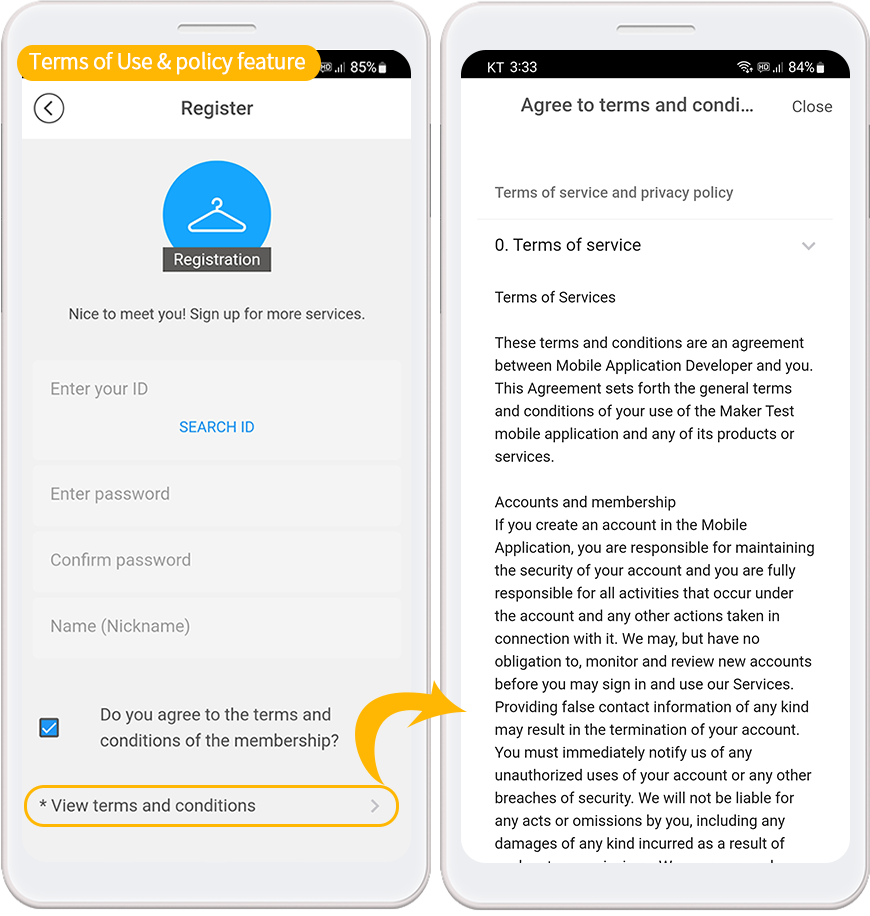 3. User-generated content – reporting function
-Refusal case: When the report function is not provided in the bulletin board function
Community – Apps that provide the ability to create and comment on boards must provide reporting functionality in accordance with the User Content Policy.
*User Policy: You must provide these features : Report posts, report users, and block users.
When a user is reported, the post must be deleted immediately, and the reported user must also be blocked (removed) from the web.
In the swing2app general prototype, the report function is set and provided on the bulletin board, so users do not need to do anything extra.
Web app connected to website – Push, web view app users, please check if the website you connected to the app has a report function.
If you don't have a reporting function, you'll need to provide both report/block functionality as described above.
*The same applies to the Apple App Store.
4. WebView, Push App – Submit advance notice documents
-Reason for refusal: Not submitting supporting documents according to WebView spam policy
If you release a WebView or push app on the Play Store, you must submit the website domain registration information and business license documents to check the business information of the website.
-Submission of web domain registration confirmation: Contents of domain name, registrant, business information, etc.

-Submission of business license: It must match the business license and the business owner information listed on the website.

*If you are not registered as a business, you can only submit your website domain registration information.
*What is a website domain registration?
Proof of the owner of the web domain can be obtained from the hosting and domain company that created the website.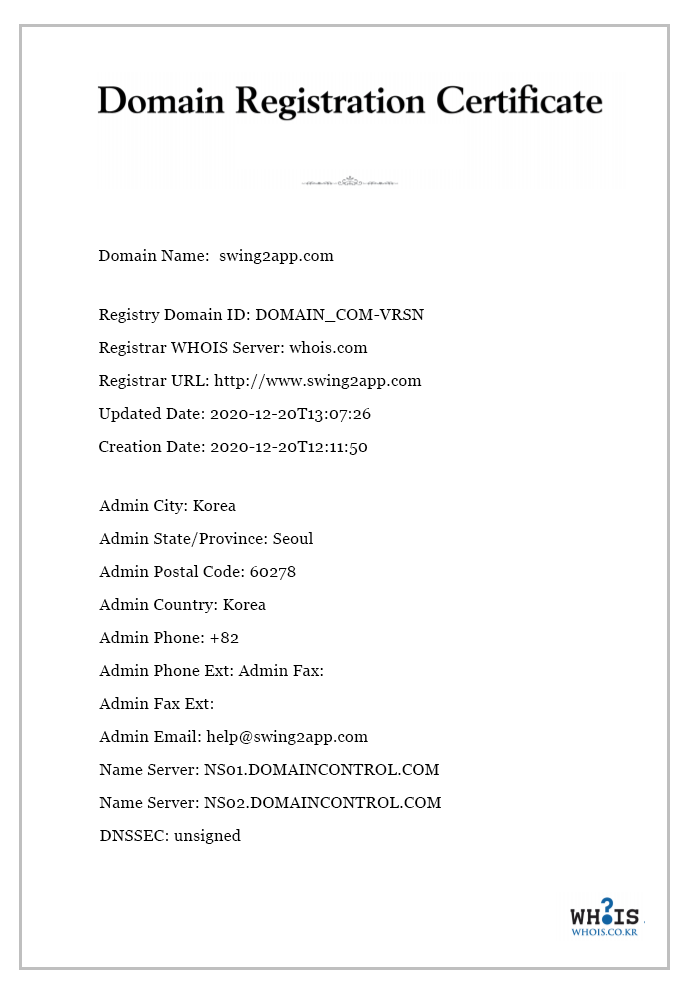 *The WebView spam policy is a policy that determines whether a website linked to an app belongs to you or uses someone else's website without permission.
Therefore, if you submit the above proof documents from the app review submission, you can launch the app without any problems.
If you upload with Swing2App, we will receive the documents and submit them together, and if you upload directly, please submit the documents from the store listing.
*Other websites, Google, sites provided on portals such as, instagram, YouTube, blogs, etc. may not be available because the domain cannot be proved.
*In addition, if you link someone else's website without permission, you will not be able to launch the Play Store as a violation of WebView domain ownership.
5. Prohibit soft updates
-Refusal case: When a soft update window appears when running the app 
Swing2App Soft Update (Re-run) is a function that updates within the app, and it can be used conveniently if it has not been released to the store.
However, Google prohibits automatic updates within the app.
Therefore, apps that have been or will be released on the Play Store/App Store should not use soft updates.
-If you are using the Play Store app, please select 'Soft update', select Hard update (reinstall the app) to proceed with the update.
-Please do not use app updates during Play Store review. (If the app version is different during the review, the app review will be rejected)
-If you update the Play Store app after it is released, you must update the Play Store to the corresponding version of the app.
6. For famous brands, copyrights, names
-Reason for refusal: Use of famous brand content/logo, use of copyrighted content and images 
Since the above are all reasons for similar types of policy violations, I will explain them together.
-Images of famous celebrities (photos), movies, T-V programs, music videos, etc.
– Logo images of universities and specific institutions
-If you use copyrighted content, or if you use a full production of a book.
– Promoting or selling counterfeit luxury goods
– The app description misrepresents the developer's relationship with another company/organization/ developer
– Using characters and titles of famous TV shows to mislead users into thinking that the app is related to the TV show.
7. False Representation – Fraudulent Activity
-Rejection case: Misrepresentation of untrue information 
We don't allow apps that contain false or misleading information or claims in descriptions, titles, icons, screenshots, etc.
1) Prohibition of content and images indicating achievements and awards (ex: No mention of winning a gold medal, winning a brand award of the month, etc.)
2) Number of ranks (1st place, 2nd prize..) Prohibition of use of No.1, TOP, etc. contents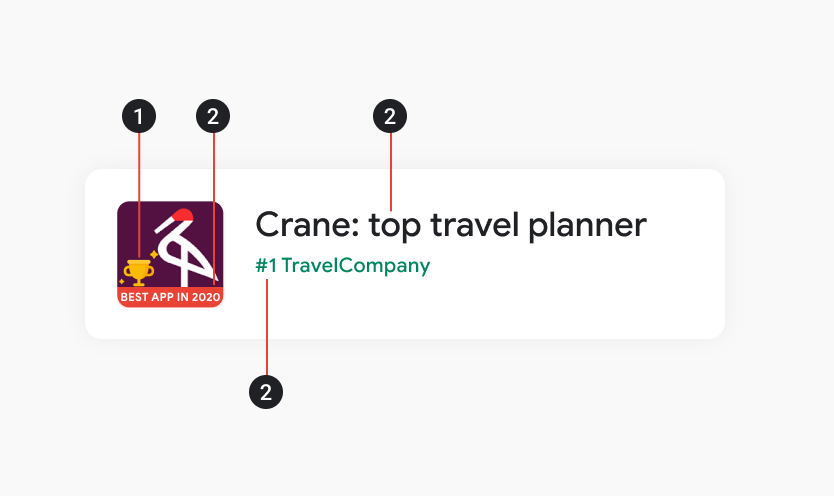 3) Price-related content: sale, free / promotion information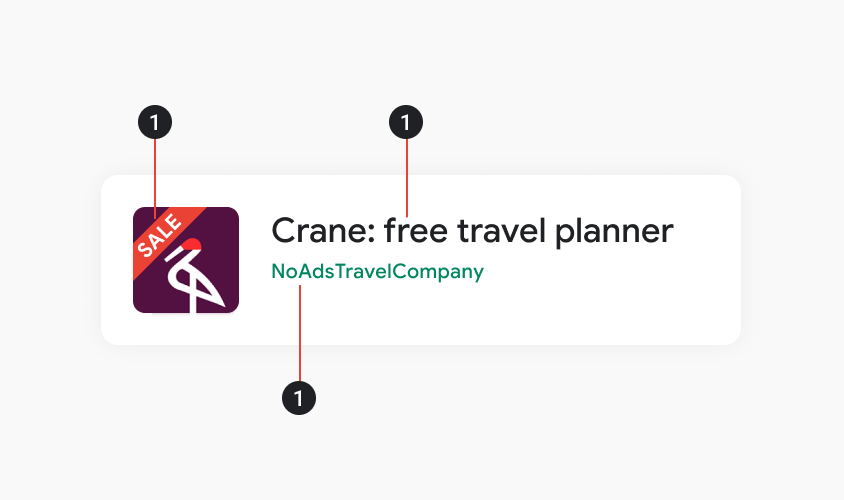 4) When submitting an English app name, do not enter names only in 'uppercase' *Mixed with lowercase letters
5) Misleading medical or health-related claims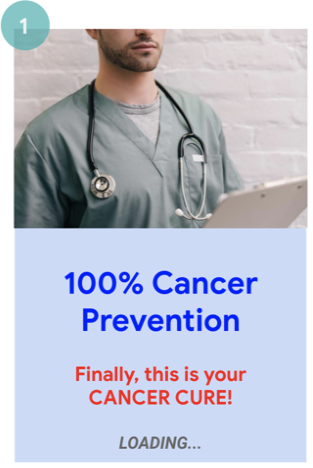 6) When referring to a brand or government agency that has nothing to do with the app
Example) Impersonation: "Health Insurance Corporation affiliate app", "IU fan club official app"
8. Use of contents such as corona and monkey spear (global disease content)
-Rejection case: Submit an app with COVID-19 information
If there is a COVID-19 reference in the app, it will not be approved.
If there is any content related to COVID-19, please remove it.
Disease content, such as corona and monkeypox, has been amended by law so that only state-approved government agencies can handle it.
App stores have all issued the same policy, which is in place to prevent inaccurate and indiscriminate misuse of information.
Therefore, you cannot submit an app with this content.
Even if the app does not cover the content, you may also be refused to include relevant content in the app introduction or description.
---
For other Play Store review policies, please refer to the following. 
1) In case of unauthorized use of copyright-protected content, impersonation of the same name as the commercially released app, trademark theft (not available)
2) Google Play Store policy does not allow content or services that promote online gambling, such as online casinos, sports betting, lotteries, or gambling games that offer cash or other prizes. (Not available)
3) Apps that sell alcohol, cigarettes, nicotine, e-cigarettes, or contain related content are not allowed. (Not available)
4) Apps that contain or promote pornography such as pornography are not allowed. In general, we don't allow content intended to provide sexual gratification. (Not available)
5) Apps such as gift certificates, mobile phone micropayment merchandising, and micropayment cashing are apps prohibited by Google in relation to the Information and Communications Act and the Financial Act. (Not available)
6) Apps that sell financial products, financial consulting, lending, cryptocurrencies, binary options, or provide related products and services are not allowed.
7) Violation of copyright/intellectual property rights: Unauthorized use of intellectual property rights of third parties or other companies. In particular, uploading third-party content and videos and generating ad revenue from the app will not be approved.
8) WebView and push version apps (web apps that connect websites) must submit supporting documents (advance notification documents) in accordance with the Google WebView policy.
You must submit a prior notice document such as a business license or website domain registration confirmation to prove that the site you connected to the app belongs to you or the company (company).
If you link to a website other than your own as a web app, you will not be able to launch the Play Store.